BOOKS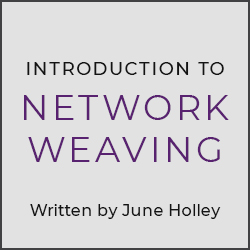 Introduction To Network Weaving
This practical guide is useful for individuals or groups interested in gaining basic skills to improve the effectiveness of their networks. 150 pages. Spiral bound for easy use.
(available in print or pdf)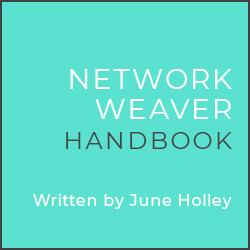 Network Weaver Handbook
The Network Weaver Handbook is a practical guide for people interested in catalyzing a new network or enhancing an existing one. Each chapter contains a short section describing key concepts, case studies, and many activities.
(available in print or pdf)
---
PUBLICATIONS
20 Tools, Checklists and Surveys  www.networkweaver.com
Conservation stakeholder network mapping, analysis and weaving with Ken Vance-Borland, Conservation Letters, 13 April 2011
Entrepreneurship with a Regional Flavor in Entrepreneurship and Local Economic Development, Norman Walzer, editor (Rowman & Littlefield) 2007
Transforming Your Regional Economy Through Uncertainty and Surprise , in Uncertainty and Surprise in Complex Systems: Questions on Working with the Unexpected, Reuben McDaniel and Dean Driebe, Eds. (Springer-Verlag:  Berlin and Heidelberg) 2005
Building Sustainable Communities Through Network Building, with Valdis Krebs, Non-Profit Quarterly, Spring 2004, Volume 11, Issue 1.